Voidhawk™ Flashlights
Posted on: May 20, 2018, by : xnlamp

When youre ready to own a Voidhawk Police Style Flashlight just click the add to cart button and well ship your order out fast from our warehouse in Florida.

Voidhawk tactical flashlights use genuine CREE® High Power Digital LED emitters driven by high quality, modern control circuit boards that utilize sophisticated booster circuitry to increase the brightness of the light.

Shopping for the right light can be time consuming and confusing. Weve taken all the guess work out of finding the perfect light, and saved you the headache of choosing the wrong one.

Youve literally got nothing to lose by trying a Voidhawk™ Light Torch today.

Voidhawk rechargeable flashlights are engineered with precision factory matched dual-lens optical zoom-heads that utilize a micro-lens directly on the LED chip itself. Combined with a sliding convex front lens housing, this allows the Voidhawk to achieve a perfectly focused optical projection pathway, enabling the user to literally throw a concentrated, full-power beam of light onto a target hundreds of feet away.

The incredible value you get in a genuine Voidhawk flashlight means everyone can afford to own a modern High Power Digital LED Light Torch.

THE VELOCIRAPTOR ASSAULTS A 14 FOOT TALL WAREHOUSE DOORTHE VELOCIRAPTORS FLOOD BEAM VS A MAGLITE® FLOOD BEAMTHE VELOCIRAPTORS LONG THROW SPOT BEAM HITS A WATER TOWERULTRA-WIDE 120 FLOOD BEAM OF THE VELOCIRAPTOR

You dont want to buy this high power led flashlight if you are looking for an okay, run-of-the-mill flashlight. You want to buy this amazing flashlight if youre looking for one of the best performing, most durable, brightest led flashlights available today.

Dual focusing optical lenses give you a straight line projected square spot beam that can shine along straight walls and around corners without blinding you with a reflection, illuminating objects hundreds of yards away.

Voidhawk camping hunting flashlights are constructed of solid aluminum and milled on million dollar, high precision laser-guided CNC manufacturing machines. You can buy this flashlight knowing it is built to last a lifetime.

When you buy a legendary Voidhawk™ Light Torch, youre getting the best quality for the best value, PERIOD!

THE CONVEX LENS AND DIGITAL LED CHIP OF THE MINI RAPTOR

This flashlight IS the right light for you, and we guarantee it with a full 100% money back guarantee.

The Flashlight Experts At VoidHawkbring you High Power Flashlights used by Law Enforcement and Military Personnel. VoidHawk L.E.D. Flashlights have the power to cut through the darkest tinted windows with fast zooming flood / spot beams demonstrating the highest lumen to size output ratio available in a modern LED Light Torch.

Free shipping offer applies to orders of $100.00 or more. Maglite® is a registered trademark of Mag Instrument, Inc., Ontario, California U.S.A. Voidhawk™ VS Maglite® flashlight comparisons were made with the Maglite® Model ST3D016 3-D Cell LED Flashlight. VoidHawk™ Flashlights is in no way associated with Mag Instrument, Inc. CREE® is a registered trademark of Cree, inc., Durham, North Carolina U.S.A. Though we use CREE® components in our products, VoidHawk™ Flashlights is in no way associated with Cree, inc. Runtime, beam distance, and Lumen calculations are estimates based on battery mAh, optical characteristics, and driver board amperage output.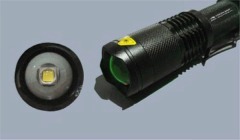 *All orders ship from our warehouse and shipping center located in Port St. Lucie, Florida, USA.
Each Voidhawk high lumen LED flashlight has been meticulously engineered and computer calibrated to bring you perfect micro-fitted optical zoom-heads.
A HIGH POWER CREE® LED EMITTER VS A COMMON MUSHROOM CAP STYLE LED
THE COMPACT SIZE OF A VOIDHAWK SERIES TORCH VS A MAGLITE®
RECHARGEABLE LITHIUM-ION POWER CELLS AND SMART CHARGERS
Copyright © 2014 Voidhawk™ Flashlights. All Rights Reserved.