Shop the coolest car LED headlights off-road truck LED fog lamps etc!
Posted on: May 4, 2018, by : xnlamp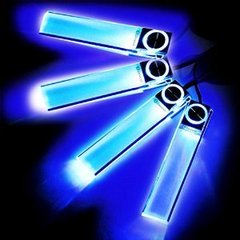 Not only do we carry LED, HID lights, and their respective components, we also offer various accessories such as air fresheners, lanyards, license plate frames, and more! Show your support for your favorite automotive light company with lanyards and air fresheners with our livery on it. If that is not your cup of tea, we also offer various colored vinyl sheets to tint your headlights, tail lights, or fog lights for that unique look. We also offer protective key fob covers to protect your precious remote controls and keys from scratches and blemishes; it will be your choice if you want a leather or silicone material protector. The list goes on so make sure you check out all the JDM accessories we offer to see the what you may want to get!
What are switchback LED lights? Switchback LED lights are special two-color lights that operate as both the turn signal and running lights on many dual filament light applications. Many vehicles share the parking or city running lights with the turn signals and are usually yellow or amber from factory for both modes. Our LED switchback bulbs offer the Xenon White color during parking light mode while blinking as Amber during the turn signal mode so the indicators stay within the legal color allowed by law. Keep a sleek, HID-like look while the headlights are on and not get hassled by cops when you use your turn signals! We have these available in various forms such as a replacement bulb, universal assembly, and LED strips! These unique LED lights are a great way to stand out from the crowd at night.
When conventional SMD type LED bulbs are not giving you enough output, you can always turn to High Power LED replacement bulbs instead! These high output LED bulbs are specially designed to provide more light output than the standard LED bulb from the same sized bulb. Many of these lights utilize a projector lens to magnify and project the light in one specific direction for the best results; CREE or LUX LED diodes are also a common term used in association with these bulbs. High power LED bulbs provide more light and still retain the power saving qualities of an LED bulb which make them an excellent upgrade over the factory incandescent filament bulb. Since these are replacement bulbs, there are no modifications required to fit the bulb into the housing if you purchase the correct size that your vehicle calls for.
are the primary choice for a sleek and stylish light that can be easily installed on nearly any application. We offer our LED strip lights in various sizes, colors, and styles to achieve any look; our variety includes Audi-style strips, switchback style strips, multi-color under-body and hood scanner lights, puddle lights, and even interior lights! The applications and installations are nearly endless and is only limited by your creativity and skill of installation. Thanks to the easy to work with design of our LED strips, they can be installed and wired by any novice installer and will not take an expert at car lighting to do. These LED strips are perfect for anyone looking to get their feet wet in modifying their own car.
also need to have adequate lighting, and the selection of LED strips, LED license plate lamps, LED tail lamps, and LED brake lamps really bump up the aura of the motorcycle by tenfold. Because motorcycles are so much smaller than cars, each LED installation really does a great job of showing off the motorcycle. Mix and match according to your personal taste and create a unique motorcycle on the road with all sorts of LED upgrades for your bike.
(also known as DRLs) are aftermarket replacement assemblies that replace a factory bezel or light assembly for a subtle, yet noticeable improvement over stock that will leave others to wonder if it came from factory like that. Facelifts and other upgrades are often made to production vehicles after they are released to the general public to fix certain issues, improve the look, or refresh the model look. A common change that many models have is the addition of new lights to a part of the vehicle that originally did not have them in the previous generation and years. Our direct fit LED lights blend seamlessly with the existing features of the car and that makes these a very attractive choice for any automotive enthusiast looking for an updated look on their ride.
has been rapidly developed since 2004 and is now considered one of the most luxurious, quality headlights that are on some of the most high-end car brands today. Audi is the forerunner of LED headlight technology, with some of the most innovative LED adaptive headlights. However, the sticker price that comes with the top tier Audi vehicles is pretty hefty. Aftermarket LED headlights have awe worthy technology to give drivers a super bright output and display a unparalleled beam pattern and an upgraded light output. Aftermarket LED headlights automatically give any car a unique appearance and also make driving on the road much safer.
Vehicle Specific LED Interior Package
Along with the wide selection of LED and HID lights, accessories, vinyl and, more, we also carry vinyl decals and stickers to put on nearly anything you own. All our decals are made of special KK style reflective vinyl material that has a 10 year long life span. Our decals are very easy to install; you just simply remove the backing and apply to a clean surface for a sticky bond. The decals can also be removed without having to worry about damaging the paint or finish of the vehicle. We carry all the popular logos and trends so it will be easy to find and choose the decal that best represents you and your vehicle. Whether you are using these decals to express your passion for your own vehicle, show support for a certain genre, or just have something that looks cool to have on your car, we will probably carry it.
Lighting Retrofit Parts & Components
In a perfect world, LED and HID lights would be a simple swap and replace alternative, but this is not always the case in some vehicles. Many European vehicles require adapters and resistors to prevent fitment and error message issues and other vehicles may require similar components for the lights to function properly. Fortunately for you, we offer all the components required for our lights to properly work in most applications. Whether you need an adapter for your lights, a relay harness, a decoder, resistor, or an automatic switch to turn on your lights with the car engine, we have it available for your needs. Fixes for hyper-flashing, error, messages, flickering, and more have never been easier to solve and figure out thanks to our selection of quality parts.
3157, 3057, 3357, 3457, 4157, 3056, 3156
and driving lamps are available for almost any car, SUV, or truck on the road. These lights are designed to help you see better in low visibility such as fog, rain, or in areas without any city lights. We have ones that replace the factory assembly to completely universal aftermarket assemblies; whatever you need to get the job done, we probably have it. We carry standard incandescent halogen style lights that are ready for an HID conversion kit and LED type lights which are all functional and stylish at the same time. They are all intended to be plug and play with the factory housing or they can be easily wired to the factory electrical system; you dont have to be an electrical engineer to install any of these lights.
are not designed for any specific vehicle and can be made to fit just about any vehicle on the road. The installation is not as direct and exact as our vehicle specific alternatives, but these can achieve a much more custom look that not many are able to copy. The wide variety we offer allow for a large selection of lights to choose from that will suit the needs of almost any vehicle; experience with DIY-type work is recommended for a factory-fit finish. Most of our lights come with basic mounting hardware and brackets for installation, but may require additional mounting components depending on the vehicle application. They are easy to wire and power up as well so it will not take an electrical engineer to figure it out.
Vehicle Specific Interior LED Package
6411, 6413, 6418, DE3423, DE3425, C5W
were first introduced on the E39 BMW 5-series in the early part of the 21st century and has made a significant impact on the automotive styling culture. These angel eye rings (also known as corona rings by BMW) are fiber optic rings that reflect light within itself to create a uniform ring of light around the low and high beam lights. The factory source of light were dim, incandescent filament bulbs that created a dull yellow glow which is not the most desirable color for many car enthusiasts; BMW has since changed this design with their newer models by using an LED alternative. Our replacement angel eye bulbs are aimed to create the similar look found on the newer BMWs on the older generations that originally had incandescent halogen lights. Not only are these available for the older BMW models, we have universal versions that can be used on other applications that originally did not come with angel eye rings as well. Now any vehicle can obtain the classic BMW angel eye ring look with some DIY-work.
are the foundation of the aftermarket LED replacement light world and is also the most common type of light available. These easily replaceable bulbs are designed to work with nearly any incandescent filament bulb size on the market today. These LED bulbs offer increased brightness and a wider range of colors than the factory filament bulb and also last much longer too; an LED bulbs life span is roughly 50,000 working hours compared to the 500 working hours for many filament style bulbs. We offer a large range of styles, sizes, and shapes of SMD LED replacement bulbs for almost any housing; there are some that are the same exact size as the factory bulb and some that are much larger and bigger which accommodates more LED diodes. Simply choose the correct size you need and replace the factory bulb, its as easy as that.
We offer a wide selection of LED lights for cars, SUVs, and trucks, including LED strip lights, LED daytime running lights, LED circuit board panel lights, and LED fog lights. Offered for a variety of makes and models, you are sure to find LED lights or accessories ideal for your individual vehicle. All of the LED lights for cars we proudly carry have been manufactured with the highest standards of craftsmanship and quality for a product you can depend on for years to come. Whether looking for the efficiency of LED interior lights, the incomparable illumination provided by LED headlights, or the stylish appeal of angel eyes and halos rings, our expansive inventory offers the best in diversity and affordability.
provide style and functionality at the same time. Since these lights are very important in determining the safety of your vehicle at night, it is a primary concern for these to not only look good, but to perform well under limited visibility. There are various styles available that range from Altezza-style, smoked, black housing, chrome housing, and more so any automotive enthusiast can find their perfect look. All our tail lights are designed using state of the art CAD software for a precise factory-like fitment. They are also DOT/SAE approved and ISO certified to ensure superior quality. Get functional and stylish tail lights that will be sure to turn heads as you drive down the street.
At iJDMTOY.com, we understand how important your vehicle is to you. It is more than a machine. It is a reflection of you and the standards to which you hold yourself and others. Since we understand the importance of cars, we understand the level of quality you expect. We strive to bring you only the finest selections of LED lights and accessories. Aside from our wide inventory of exceptional products, we aim to make your satisfaction our top priority. Our skilled and friendly team of associates would be happy to assist you along the way while shopping with us or answer any questions you may have. Call or order online to see the difference LED can make in your vehicle today!
With so many car owners taking personal customization to new levels, it makes sense to consider the benefits of upgrading your lights to LED! Boasting illumination three times brighter than traditional lights, LED lights for cars are a solid solution for vehicle owners looking for something extra. Aside from their impressive brightness, LED lights for cars offer impressive staying power with longer life spans and are practically indestructible. Imagine having headlights you hardly ever need to replace, unless you want a different option, or door lights immune to the damages of accidental impacts. With the letters in LED standing for light-emitting diode, this type of lighting offers superior performance and concentrated power.
was founded in 2004 and now it is one of the largest automotive LED lighting retailers in US, located in Los Angeles, California. We carry the most complete LED replacement bulbs for any cars, SUVs or trucks and wide selections of LED lighting accessories such as LED strip lights, LED daytime running lights, LED circuit board panel lights and LED fog lights. Here at m, we thrive to provide the best selection of automotive LED lights with the latest cutting edge technology to our customers worldwide. Being car enthusiasts ourselves, we understand that car is an important part of your life, here we will help you find the best parts to make your car looks and rides better than everyone else. We will do our best to bring you a great shopping experience.
Retrofitting an LED application is probably one of the highly valued skills in the world of aftermarket cars. You may have seen some pretty unique LED looks, including the Iron-man headlight modification and switchback LED headlights. While these LED installations are not plug-and-play, they are still extremely popular and people flock to install these LED upgrades for their car. Choose from a wide range of projector lights, shrouds, LED demon eyes, and even LED angel eye halo rings.
More and more new cars nowadays are equipped with daytime running lights, but they are unfortunately the dull, yellow halogen lamps. LED daytime running light bulbs are a quick and easy way to get a crisp, white output without having to do any extreme modifications. LED daytime running light bulbs are vehicle specific so you know that the LED bulb you are buying is designed specifically to fit your vehicle so that you can have unbeatable output that other drivers can notice from all the way on the other side of the intersection. LED daytime running light bulbs are practically a must-have upgrade for all cars and will never go wrong.
Direct fit LED daytime running lights
Most factory equipped headlights are plain and do not have any type of optional features to make them unique from the rest of the cars on the road. Aftermarket headlights usually use projector lenses for a better output compared to the standard reflector bowl lens that came with the factory headlight; some may even include optional features such as halo rings and LED lights inside the headlight that would make other car enthusiasts jealous. We offer a variety of different headlight styles that range from the traditional crystal clear, Altezza-style, black housing, and more! With the large selection available, we have a headlight for almost any type of look that you have in mind for your vehicle. These easy to install headlights can turn your car from bland into unique in a short amount of time.
LED Knight Rider Scanner/Strip Lights
While there are many choices to go with in the LED lighting world for vehicles, the primary concern for most choices is the brightness. Regular LED replacement bulbs do a great job at providing more light than the factory bulbs, but some people just want more! LED replacement assemblies are lights that typically replace an entire housing or assembly such as the license plate lights, side markers, interior door lights, and more. These types of lights are able to provide additional light output than the conventional LED bulb replacement and have a factory fit that can easily fool others to thinking that these lights came on the vehicle from factory. While some are designed to replace, some are designed to add more lights to the vehicle while maintaining a subtle design that does not distract from the overall look of the car.
Shop the coolest car LED headlights, off-road truck LED, fog lamps, etc!
replace the factory reflector pieces on the bottom of the bumper with the same type of assembly that has LED diodes in it. These can be wired to your vehicle to act as additional brake and running lights for improved visibility and functionality! These stylish LED reflector lights provide more light when you step on the brakes which allows other drivers to see and react quicker to increase the safety. These super bright LED lights are available as a direct replacement for various car manufacturers such as Honda, Acura, Lexus, Toyota, Infiniti, Nissan, Mazda, Mitsubishi, and more! They are wired directly to the factory tail light wiring for a simple install.
stand for high-intensity discharge which is a type of light that produces 3-5 times more light output than conventional incandescent halogen bulbs do. HID lights are a premium upgrade for any vehicle to see clearer and better at night. Whether your vehicle already came with HID lights from factory or if you want to get a conversion kit to get HID lights, we have a selection for you to choose from. More light output means more visibility and more visibility means more safety for you and other drivers on the road. All our HID lights are plug and play so they do not require any type of modification to the factory wiring. They are easy to install and completely reversible if you ever want to go back to stock whenever you want or need to. Our large selection of colors available will be sure to satisfy any visual taste you prefer.
Whether or not you are a fan of the iconic Knight Rider TV show from the 80s, LED Knight Rider strips and LED scanners are a great way to give your car a bit of pizzazz. If you wanted a bit of variety, there are all sorts of LED strips available for your car. Choose from luxury-inspired LED strips, such as Audi-style side glow LED strips or Mercedes Brabus style LED puddle lights, or even some funky LED eagle eyes or miniature LED strips! The design combinations are practically endless, giving you the perfect opportunity to build the lighting features of your car from scratch.
are in the same family as LED panel lights, but the only difference is that these special lights are vehicle specific. The housing shape of vehicles differ from model to model so we have created specifically shaped LED panels for those vehicles. These LED panels offer superior brightness and lighting coverage than the conventional LED replacement bulb and universal LED panel. And because the direct fit panels are specific to the vehicle, there is no guess work involved when purchasing the lights; just make sure that you have chosen the correct package for the vehicle you have, order, wait for the package, and install! Each package includes the correct adapters required for the bulb size your vehicle uses. This entire kit is plug and play and requires no modification.
211-2, 212-2, 214-2, 560, 569, 570, 578
Universal LED Daytime Running Lights
ClickHerefor all the products qualified for this deal!
Many of the modern 21st century European vehicles have an electrical can-bus system that detects when and where a bulb is not properly functioning. Since LED bulbs naturally have less power draw on the system, many European vehicles see this as a fault and as a result, an error message appears. One way to solve this issue would be to add a resistor to the circuit to mimic the power draw of the factory incandescent bulb, but that requires modification of the factory wires which is not something everyone is comfortable with doing. Error free LED replacement bulbs have built-in resistors inside the LED bulb that prevent unnecessary modifications to be done. Our plug and play replacement LED bulbs are perfect for most European vehicles that need a can-bus friendly LED alternative.